Deutsche Bahn's new long-distance train, was presented to the public yesterday at Berlin Central Station.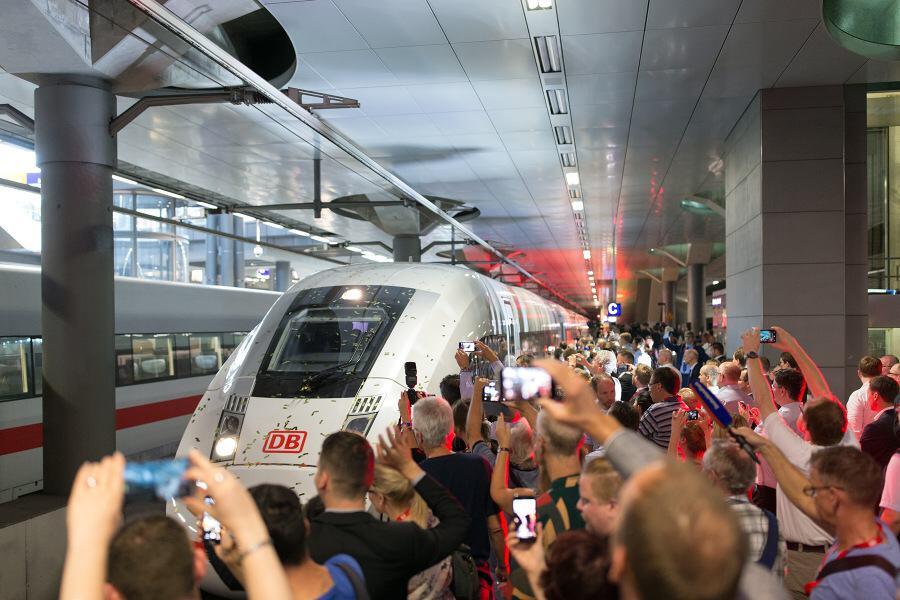 The new ICE 4 train, which according to Dr. Rüdiger Grube, Chairman of the Management Board and CEO of Deutsche Bahn, "ushers in a new era" comes with numerous technical innovations and improvements on previous ICE high-speed trains.
"It is the backbone of our future long-distance transport system," he said "We are planning to expand our range of long-distance rail services by 25 percent by the year 2030, linking up more and more cities and regions."
The 12-car ICE 4, built by Siemens, can run at a top speed of 250 kilometers per hour and has an overall length of 346 meters. It has a total of 830 seats, 205 of which are in first class and 625 in second class. Its low weight and optimised aerodynamic design reduce energy consumption per seat by 22% compared with a modernized ICE 1.
Improved passenger comfort
Birgit Bohle, Chairwoman of the Management Board of DB Fernverkehr AG said: "The ICE 4 sets new standards for our passengers: ergonomic seats, plenty of space for baggage, an elegant restaurant car and an innovative lighting scheme ensure a high level of comfort for passengers. This is the first ICE on which passengers can take their bicycles. Thanks to a completely revamped family area and parent-and-child compartment, families can now look forward to an even more relaxing journey."
Other features include a modern passenger information system which will in the future display real-time information about the course of the journey and the connecting trains available at each station. The air-conditioning system has been improved and is designed to cope with temperatures of up to 45 degrees Celsius.
The ICE 4 has space for eight bicycles and four wheelchairs. Two on-board hoists ensure that wheelchair users can board and leave the train at all stations.
The lighting system is adjusted according to the time of day and creates a pleasant atmosphere inside the cars. Clear signage for the different train areas makes it easier for passengers to find their way around the train, and seat numbers and reservation signs are now integrated in the seat headrests.
The ICE 4 already has state-of-the-art WiFi and telephone technology, which DB will have installed in its entire ICE fleet by the end of the year. This means that passengers in second-class cars now also have access to WiFi.
DB has ordered delivery the first of 130 trains from the total of up to 300 trains covered by the framework agreement signed with Siemens in May 2011. With a volume of roughly €5.3 billion, this is the largest investment in rolling stock in the history of Deutsche Bahn.
The only question is (especially after our brexit decision): when will we see them at St Pancras International?
(All images courtesy of Siemens AG)
[amazon_link asins='3945225019,B00JBBV0FI,B0046SB8WQ,3662548690,B077C198NG,1921719087,0750961457,B00PPFQRH0,0711033935′ template='ProductCarousel' store='mechtraveller-21′ marketplace='UK' link_id='ca830cf1-f3ac-11e7-8cbb-d9294738b93b']