The sole surviving Alvis Grand Prix racing car, once abandoned in a scrapyard in Coventry, is being revived by The Alvis Car Company, and will be making its first public appearance tomorrow (14 April) in Chiba City, Japan at Automobile Council 2023. Its unveiling comes 96 years after its race debut at the 1927 Junior Car Club 200 Mile Race at Brooklands.
What makes this Alvis particularly significant is that it was one of the first of its kind to use front wheel drive and its highly unusual mechanical layout caused quite a stir in 1927.
The car has no conventional front axle. Instead, the steering system uses four elliptic leaf springs in a unique, independent arrangement. A powerful in-line, eight-cylinder, 1.5-litre, supercharged engine sits just behind the longitudinally mounted gearbox, giving the car a distinctive length when compared to its competition in 1927.
Innovative, it might have been. Reliable, it was not.
One of two cars entered, this particular chassis was the #2 Alvis for the 1927 British Grand Prix. Issues with both cars meant ultimately neither made the start. Two weeks later #2 made its debut in the JCC 200 Mile Race at Brooklands. Showing prodigious pace, and lapping the track in excess of 120mph, this Alvis, driven by George Duller, qualified second behind the sister car of Maurice Harvey. Duller's Alvis took the lead at the drop of the flag, but after dropping back to third due to a spark plug change, the Alvis retired with an engine failure on lap 52.
[they had] strict instructions that it was to be broken up and not sold on
Upon returning to the Alvis factory, the car's engine was removed and entirely dismantled to diagnose the cause of the failure; a shattered con-rod, now on display in Alvis' showroom in Kenilworth. The car would never house its original engine again. It remained in Alvis' possession, powerless and unused, for just over a decade.
Attempting to free up space in the factory in the late 1930s, the car was one of a trio of front wheel drive examples that Alvis sent to Roach Brothers, a car breaker in Coventry.
Here is where it gets interesting!
Roach Brothers were given strict instructions that it was to be broken up and not sold on. Subverting this original agreement, the car was sold to Bill Pitcher, a motorcycle dealer in Rugby and secretly allowed a second chance.
Pitcher set about trying to find a replacement engine and gearbox and settled on a 1929 engine that originally came from either Alvis' TT or Le Mans cars and an Alvis transmission system from 1929. Pitcher's idea to re-develop the Alvis with a rear-engine layout fortunately never materialised, and he was forced to sell the car when his business failed, around 1955. The new owner, lifelong front wheel drive Alvis enthusiast, Nic Davies, then owned it for nearly 50 years. Davies travelled the world with the car, taking it to Australia, Papua New Guinea, Florida and more. Throughout this time, the car was kept in the condition left by Pitcher, until 1990, when Davies began an ambitious reassembly project.
Although far from complete, this project saw the car run under its own power for the first time in over 75 years on the 19th of April, 2003. It was in this state in 2006 that the car was acquired by Alan Stote (the current owner of The Alvis Car Company) and Tony Cox (a front wheel drive Alvis expert), and the definitive restoration process to period specification began.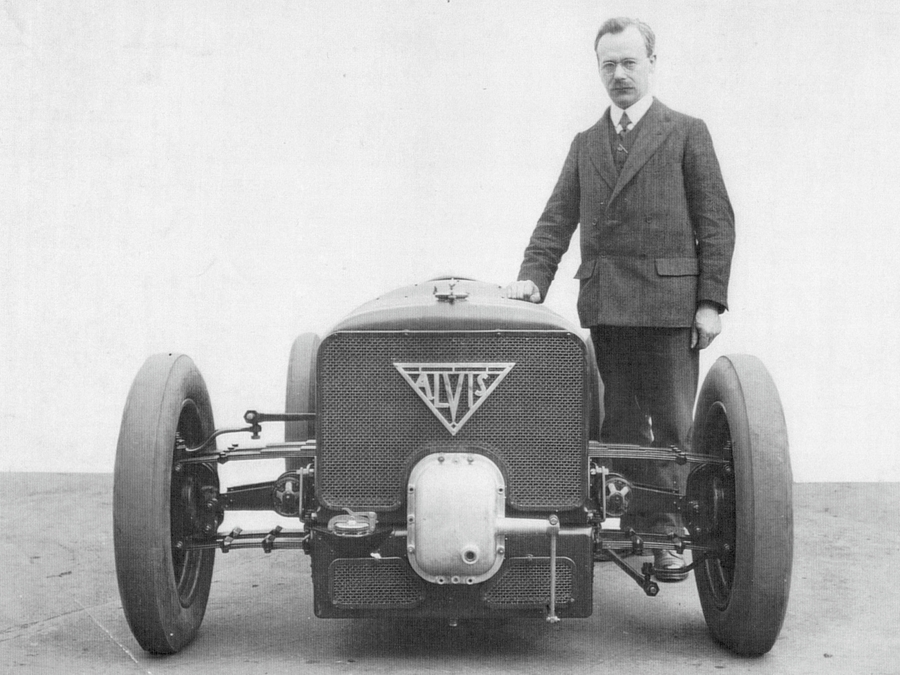 Several period photographs of the car in race trim, surviving drawings of its engine and the core elements of the car that remain in good condition (chassis frame, bodywork etc.) have been crucial to returning the car to its original state. Fastidiously studying these parts and reverse-engineering them using CAD allowed Alvis to remanufacture new components in its factory, or with UK-based suppliers. A new, period-correct engine block and gearbox casting replaced the similar but incorrect units Pitcher had sourced decades ago, to ensure the utmost faithfulness to the original car.
The restoration of the Alvis Grand Prix is the latest achievement for the flourishing British marque and follows its range of six 'Continuation Series' road cars and an order book for the handmade models stretching into 2025.
Together with sister company Red Triangle, the Alvis Car Company offers parts and sales of period and new Alvis models alongside restoration and maintenance services. All of this takes place at its works in Kenilworth alongside a vast storeroom of authentic Alvis parts, stored since the original factory site closed in 1967.
"The lack of historical information presented a key challenge during the restoration process, but at the same time has made the project more intriguing, and one that has been a journey of discovery," says Alan Stote.
The car is set to be publicly unveiled at Automobile Council 2023 (14th – 16th April), in Chiba City, Japan as a complete rolling chassis. Further work is planned to complete the engine later this year, ahead of a series of demonstrations and displays at key events. Alvis would ultimately like the car to return to Brooklands in 2027 for the 100th anniversary of its debut.