It's not just the amazing suits of medieval armour in this collection that make this small museum so special. It's the way they were meticulously displayed and catalogued in the middle of the 16th century, that makes this and the castle's other curiosities, the world's oldest museum!
Schloss Ambras, on the hills outside Innsbruck in Austria, is a large 10th century medieval castle that got a renaissance facelift in the 16th century by Archduke Ferdinand II who wanted to make it a home for his wife, Philippine. He also used it to house his eclectic collection of rare objects, artworks, weapons and… suits of armour.
His 'Chambers of Armour' ("armories") were specially constructed to display the rare suits of armour he had collected, dating back to the previous century. Some were ornate and ceremonial, some were glamorous suits for jousting, some belonged to royalty old & young or famous commanders, and some were what ordinary foot soldiers or cavalry wore. He also collected items such as helmets from the feared enemy of the day, the Ottoman Turks.
Highlights? Well there are some pretty interesting suits of armour…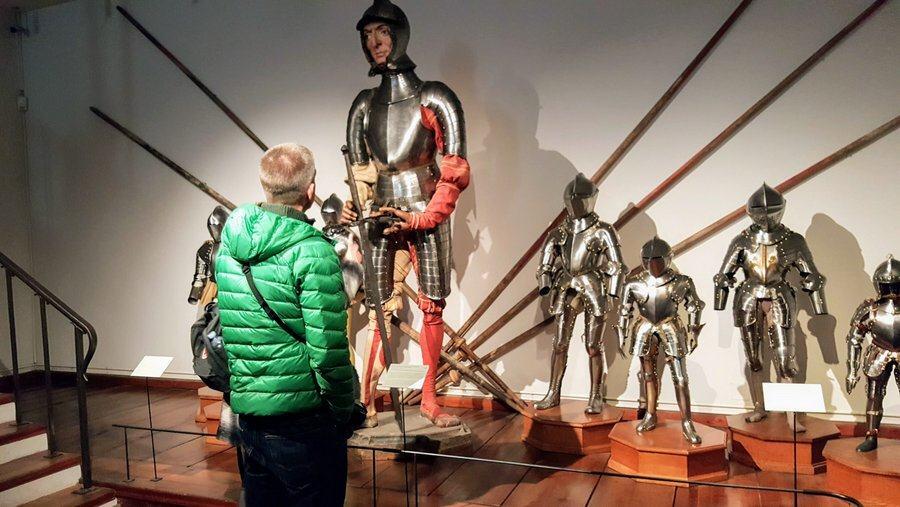 This (above) is the suit of armour made for the "giant" Bartelmä Bon who came from Riva del Garda near Trento and served as an aide, and no doubt bodyguard, to Ferdinand's nephews, whose suits of armour you can see on the right. The armour on the left belongs to Ferdinand's two sons, Andreus and Karl and were displayed here to bolster their non-Hapsburg positions (Ferdinand had married Philippine secretly. She was not of royal birth). Matt, standing in front, tells me he is 6′ 3″ (1.905m), so Bartelmä was pretty tall at 8′ 7″ (2.6m)!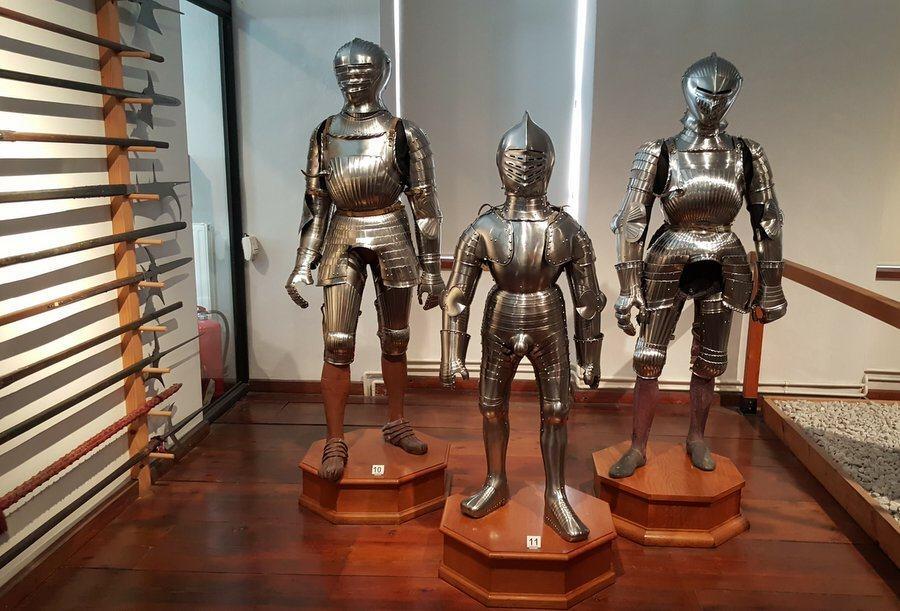 The small chap in this group of three, who is clearly very pleased to see us(!), is King Louis II of Hungary (1506 – 1527). For all his prowess he didn't last long. He was killed, aged 21, at the Battle of Mohács against the Ottomans. Behind him, or rather his armour, stand two ordinary soldiers (their 'field armour'suits were made around 1515-1525), but I can't help thinking the one on the right looks a little feminine.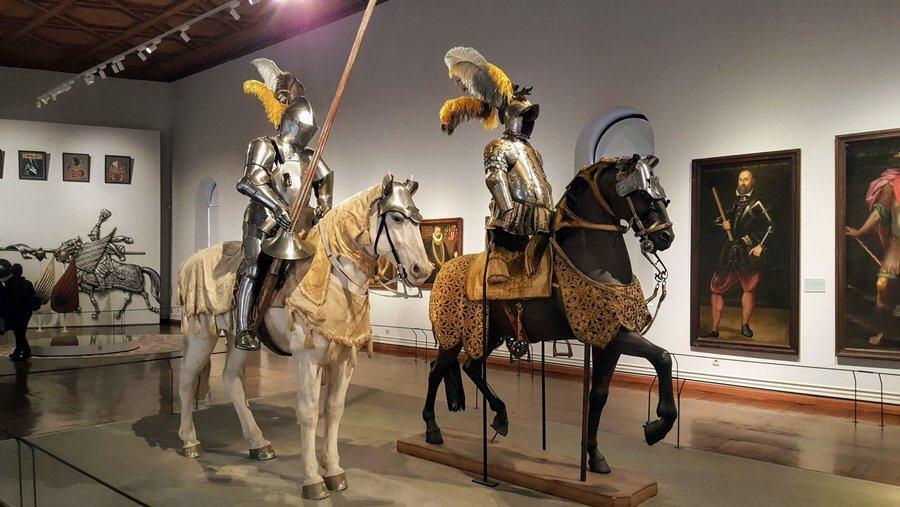 These two suits of armour were both owned by Archduke Ferdinand II himself. The one on the left is "Mêlée" armour used in mock tournament battles between groups of knights who fought first with lances on horseback and then dismounted to fight on foot. It's not clear whether Ferdinand actually participated in any of these. The second, on the right, is his ceremonial wedding armour. Philippine died in 1580, and two years later he married Anna Juliana Gonzaga of Mantua who became Archduchess of Austria.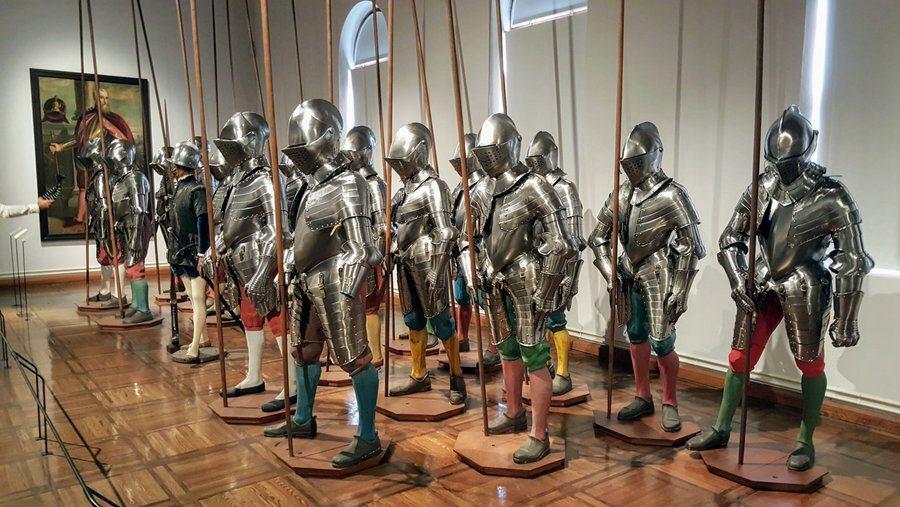 These are 19 suits of armour for the foot tournament, from an original set of 21. They have been displayed together since 1583.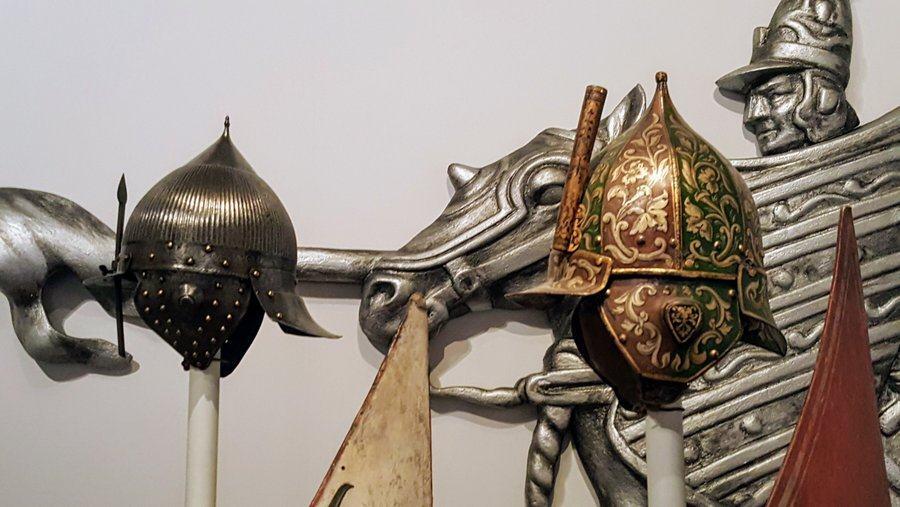 The fascination with enemy weapons, equipment and armour explains these Ottoman-style burgonets (helmets). The red & green burgonet was worn by Ferdinand II during his 2nd wedding ceremonies.
This is a museum, well-lit with plenty of windows and carefully laid out, that looks like a perfectly normal 21st century museum. Except it's not. It's a perfectly extraordinary museum of the 16th century!
---
Declaration: I was visiting Innsbruck on a press trip hosted by Innsbruck Tourism so my entrance was free.
Factbox
Website:
Schloss Ambras
Getting there:
Ambras Castle
Schlossstraße 20
6020 Innsbruck.
Schloss Ambras is on the southern outskirts of Innsbruck on the valley side. It's close enough to get a taxi from the city centre and be there in 10 minutes. The 4134 from stop D at the station also stops near at stop "Schloss Ambras" and then there's a 3 min walk up the hill.
Entry Price:
| | | |
| --- | --- | --- |
|   |  April – October |  December – March |
| Adults: |  €10 |  €7 |
| Children & teens under 19: |  Free |  Free |
| Families (2 + 3 children): |  €18 |  €12 |
| Concessions: |  €7 |  €5 |
| Group (10+): |  €7 pp |  €5 |
Opening Hours:
Daily 10.00am – 5.00pm (Except closed in November)
Last admission: 4.30pm
The Armories may be my primary interest at Schloss Ambras, but it is a beautiful, historic and interesting place to visit in its own right. Read more on Page 2…
Pages: 1 2