Jaguar drivers can now use their car's touchscreen to pay for fuel at Shell service stations with a new cashless payment app using PayPal or Apple Pay.
I'm so cross with myself for not spotting this one coming! As cars become mobile devices in every sense of the phrase, why wouldn't you be able to pay for things, in this case fuel, from the car?
The new Shell app is part of a suite of new model year updates for Jaguar XE, XF and F-PACE.
Rather than using a card at the pump, or queuing in the forecourt shop, owners who install the Shell app (available from today) can simply drive up to any pump at a Shell service station (initially in the UK and then globally) and use the vehicle's touchscreen to select how much fuel they require and pay using PayPal or Apple Pay. Android Pay will be added later in 2017.
An electronic receipt will be displayed on the touchscreen, so customers can leave the forecourt confident of having paid. A receipt will also be sent directly from the pump to the driver's email address so it can be added to accounting or expenses software.
Now it gets confusing…
Jaguar say that "unlike current phone-based payment methods, Shell and Jaguar Land Rover have created a simple but secure customer experience that uses geolocation technology and a cloud based pre-payment check with the Paypal or Apple Pay wallet." How is that different to current phone-based payment methods?
Which leads to another question. What do you need the car for? Why not use your phone?
In fact, it's more practical to use your phone since phones are personal to you and cars aren't. What if it's not you driving? Your son can fill up on your Paypal account? What if your passenger says she wants to pay for this fuel stop as her contribution to the road trip?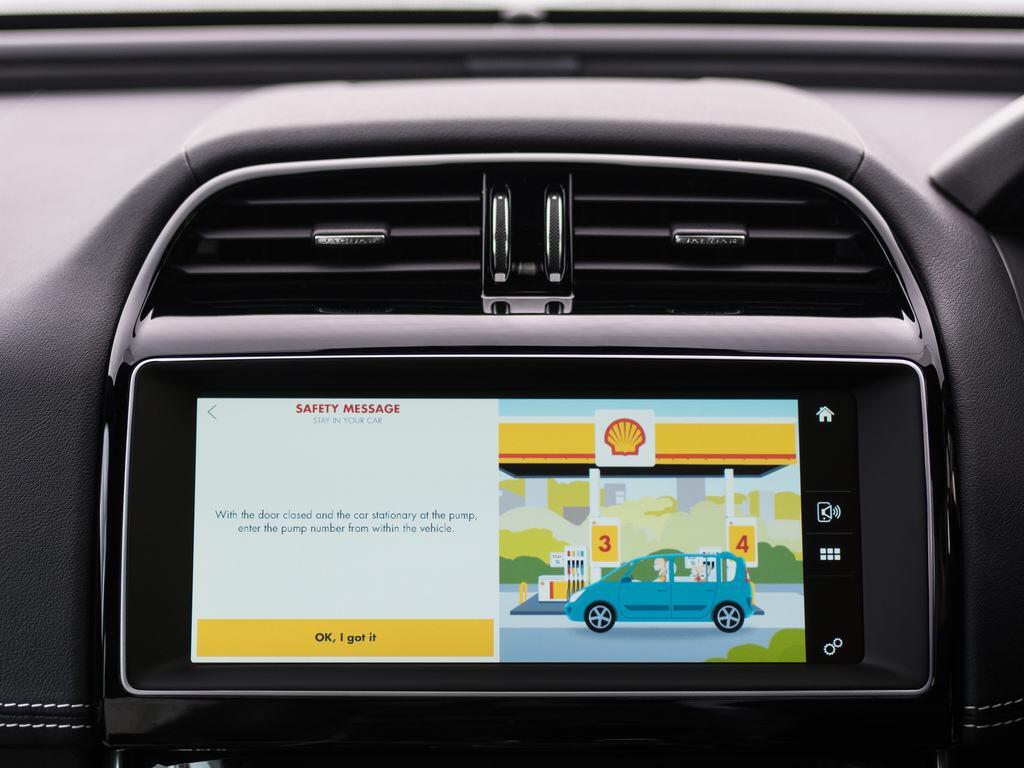 David Bunch, Global Vice President Shell Retail Marketing and Chairman, Shell Brands International, confirmed: "In 2015 Shell introduced mobile payments at the pump in the UK" (So you can already pay from your phone). And then continued, "Today we are proud to offer the next step in cashless motoring, with Jaguar and Land Rover customers in the UK paying for their fuel using the car's touchscreen." How is that an improvement?
I don't want to be churlish. This is a welcome new service, but I suspect its significance will be the cue for other brands to team up with fuel companies – not just vehicle manufacturers but vehicle rental brands – and that will be useful.