A spacious new museum building on Woodford Aerodrome outside Manchester is almost complete and ready to house some 30,000 aviation artefacts belonging to Avro Heritage Trust.
Aviation legend, Alliott Verdon-Roe (a name that soon got shortened to Avro) purchased New Hall Farm at Woodford in 1924, to be a new factory & airfield site for his company which was based around Manchester.
For the next 86 years the site produced famous aircraft such as the Avro Anson, in particular the Lancaster bomber, the Shackleton, the Vulcan, and after 196X when the company was folded into Hawker-Siddeley, British Aerospace, and then BAE Systems, the Nimrod.
It was the cancellation of the replacement Nimrod MRA4 model in 2010 that brought all production to an end at Woodford. Now the aerodrome, owned by Avro Heritage LTD, will be turned into a residential development, except for the new museum which has been build on the site of the former airfield fire station.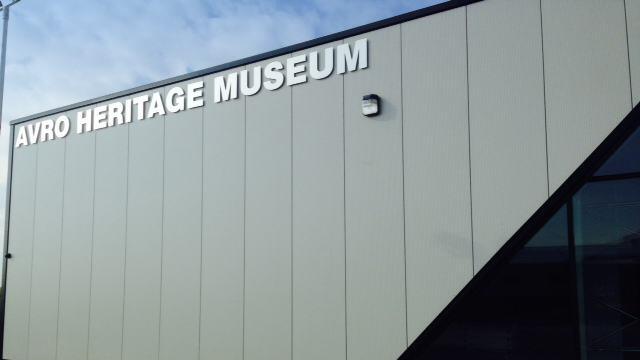 The intention is to display around 80% of the Trust's collection, with 20% in rotation to keeps the displays fresh. The largest item in the museum will be a nose and cockpit section from an Avro Vulcan, while outside the museum a complete Vulcan B2 () will stand guard in pride of place…. once it has been cleaned up a little – it's looking a little shabby now.
One thing visitors will NOT want to see being carried across from the Trust's current home on the aerodrome, is their 'No Cameras' policy – no longer acceptable in 2015.
The new museum is expected to open in mid August.